UK manufacturing in the news this week: Pottery industry sees a revival, steelworks close causing concern, job losses on the rise for the first time in two years…
The Conversation
England's pottery trade is on the up and the industry is due to get some media attention with the launch of a new BBC TV programme called 'The Great British Pottery Throw Down".
More than 150 years after the heyday of the British ceramics industry, things are looking more positive than for some time. Potteries capital Stoke-on-Trent, in Staffordshire, England, is currently hosting the fourth British Biennial Ceramics festival, an eight-week exhibition and international showcase. And the BBC is shortly to air The Great British Pottery Throw Down, a sort of Bake Off with clay filmed at Stoke's Middleport pottery factory (which recently received a £9m restoration).

Behind these public events, Stoke's old industrial district is looking much healthier than it did a decade ago, when it appeared in danger of collapsing altogether. Ceramics in Stoke and the surrounding Staffordshire area includes everything from dinner sets and vases to bricks and industrial tiles for roofs. Most of the revival has been in table and giftware, where exports have risen by 36% between 2009 and 2014, and with another strong performance recorded in the first six months of this year, they are set to rise again.
---
This is Money
The closure of a steelworks in the North of England has caused concern among manufacturers and many who fear that it is a sign that the UK manufacturing is once more in decline.
The collapse of one of the UK's most important steelworks comes amid a slump in confidence among Britain's manufacturers, according to industry experts.

The closure of the Redcar works and a string of profit warnings at aerospace giant Rolls-Royce have highlighted the crisis facing manufacturers, large and small.

The strong pound and weak demand from overseas has hit export orders while the collapse in the price of crude has hurt the North Sea oil and gas industry.
---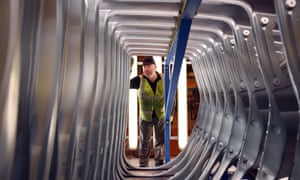 The Guardian
More bad news as the Guardian reports on job losses within the manufacturing sector:
The performance at UK factories was lacklustre in September, when growth slipped to a three-month low. Against the backdrop of warnings about the uncertain outlook for global growth, eurozone manufacturing also lost momentum and output from Chinese factories continued to fall.

For the UK, the first snapshot of manufacturing performance in September continued a downbeat trend. The key measure of factory activity slipped back to within a whisker of June's two-month low, according to the Markit/CIPS manufacturing PMI report.
---
If you would like to submit news about UK manufacturing for our weekly Made in Britain update then please drop us some details via our contact form.