Should you raise your prices?
Should you raise your prices?
Listen to this episode of the Make it British Podcast (18:08)
The price of everything is going up at the moment – from fuel prices and taxes to raw materials and shipping.
But what does this mean for you if you have a business that makes in the UK?
In this episode, you'll hear thoughts from our Make it British members, both brands selling UK-made products and UK manufacturers, on what price increases they're seeing. And how that is affecting their businesses.
And I give my advice on how you can deal with the cost rises.
Discover:
**Click the time stamp to jump directly to that point in the episode.
Have a look at the Raising Prices Poll on LinkedIn. The infographic below shows the results of this poll:
Link to episode 211 where I talked about rising costs as one of the big trends that are going to affect UK-made brands this year.
Thoughts from our Make it British members:
Oliver Mustoe-Playfair, is one of the directors of Prinfab, a digital fabric printing business based in Faversham in Kent supplying many small businesses that make in the UK.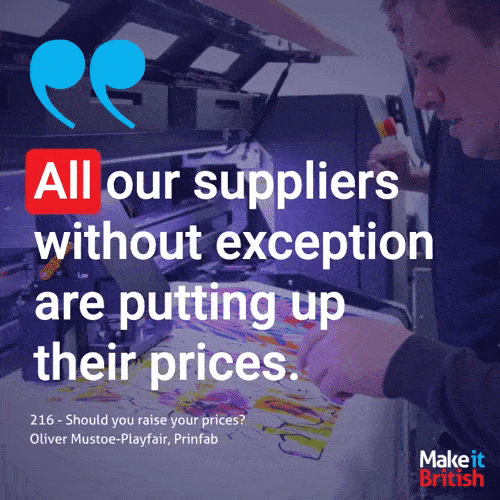 All our suppliers without exception are putting up their prices. Our transport costs are increasing massively. We haven't passed that onto our customers yet, we're still using stock that we bought, sort of a year ago. But it's almost inevitable.

Raw materials and the cost of getting it here is, is really increased in the cost side. We've held up so far, but it's inevitable that the prices are probably going to have to go up.

Oliver Mustoe-Playfair, Prinfab
Helen Bristol is the founder of Thimble, a CMT factory in Somerset specialising in homeware. She sees the rising cost of importing goods made overseas as a benefit to UK manufacturers like herself: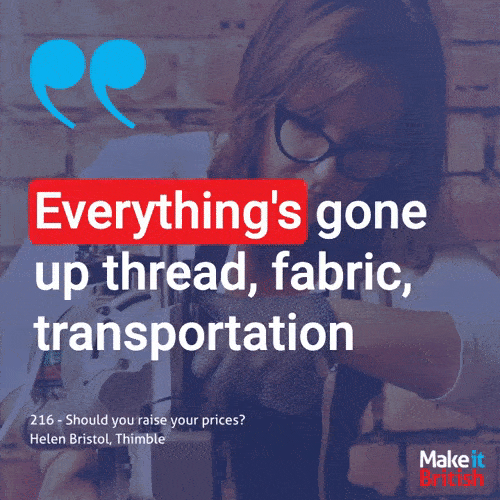 Everything's gone up thread, fabric, transportation and yet lots of my customers are still really, really scared to put their prices up. I haven't put my labor prices up because we pay above the living wage.

But interestingly, what's really good for us is because the container price has gone up ridiculously, that's actually been quite good for our business because obviously people want more made in the UK.

Helen Bristol, Thimble
Anila Preston owns an alpaca farm in the hills of Exmoor called the British Alpaca Fashion Company. They have a design studio and knitwear production facility on the farm and make high-end knitwear from their own alpaca fleece. They supply to many high-end brands and designers, but are seeing resistance from their customers to accept any increases in price: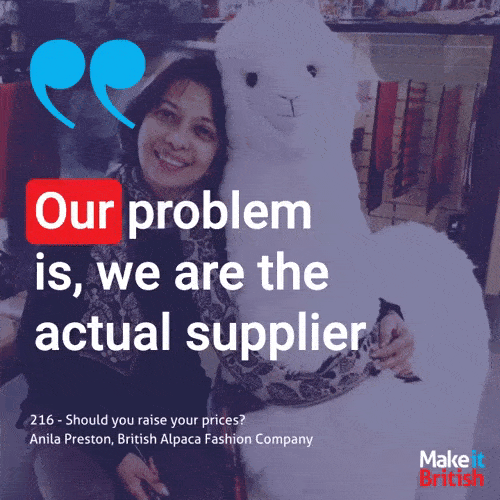 Our problem is, we are the actual supplier and the designers or the shops who buy from us don't want to pay any more. So we can't put any prices up at all.

And the work doesn't change. We look after the alpacas and we're busy manufacturing, but we find that designers give us a price and we have to work to it now.

Anila Preston, British Alpaca Fashion Company
Dawn Clark is the founder of Dawn Clark designs which makes beautiful special occasion dresses for children. Due to the rising costs of sustainable fabrics, she's found that there is now a sacrifice to be made between choosing materials that are environmentally friendly, or passing on those costs to her customers:
I'm looking at eco fabrics at the moment and the price comparisons are ranging from 15 pounds per metre for regular fabrics, eco ones, 30 pounds a metre, I mean, that is an incredible difference.

So for now, I'm going to have to forfeit my dreams of recycled fabrics for regular fabrics.

But in order to keep supporting the British economy, I will try and get the fabric sourced from UK suppliers, wherever possible I can and continue my journey of using British manufacturers.

And if not, it will need to be imported. And sadly, yes, this will be passed on to my customers.

Dawn Clarke, Dawn Clarke Designs
Elisabeth Braddock is the founder of Pittch Socks and as an online retailer has been hit badly by the rising costs of packaging, but she can see how the rising costs of shipping have a benefit for those that manufacture locally…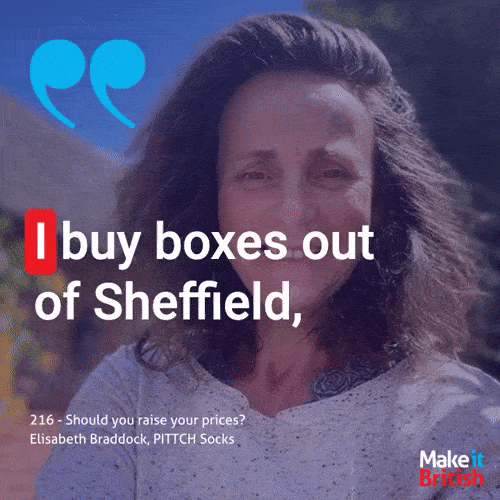 I buy boxes out of Sheffield, handmade, recycled staple boxes and they went up by 20 to 30% and I hadn't ordered it since last year, it was quite incredible.

And then I buy print out of Nottingham and that went up by about 15% and that was only just yesterday.

My new ranges are coming out within the next six weeks and I'm thinking about how to communicate that to my customers. I've got to communicate that really carefully and be creative and still entice people in.

Elisabeth Braddock, PITTCH Socks
Elisabeth's thoughts are shared by Catherine Orpin, the founder of Touch of Tweed, a country and coastal clothing brand that sells sustainable sweatshirts and leather belts that are all made in the UK.
Although Catherine has seen her supplier prices rising, she is seeing this as an opportunity for smaller brands to offer better value than the high street…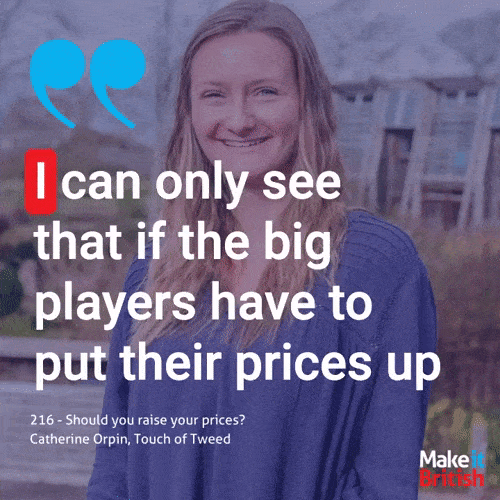 I can only see that if the big players have to put their prices up and they're not going to tell their customers, it will look good on us smaller businesses, because if we have the forefront to warn them and tell them, and then we can move up to be higher than them because we're a premium product, I think it might actually do us good.

Catherine Orpin, Touch of Tweed
And Elisabeth concurs with what Catherine has said in terms of the value and service that small businesses provide compared to big retailers and supermarkets: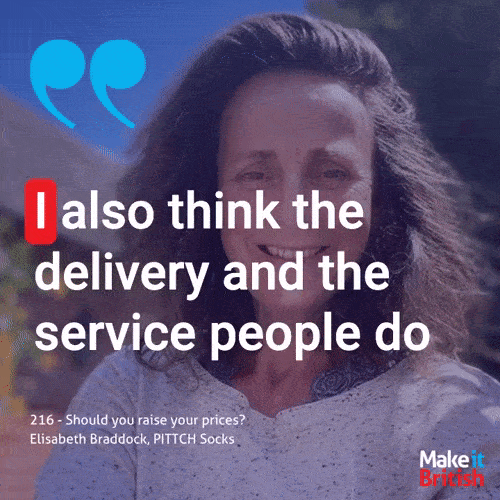 I also think the delivery and the service people do recognise from the UK, from a small, independent. And I regularly get people phone me up and say, because of that, I'll order a bit more, or they'll ask a bit more about the range and then it becomes engaging and you tell them the story and you have that hook.

You don't have that hook with the supermarket, you don't. And we are so woefully different to the supermarkets, we are engaging, we have compassion, we are there at the end of the phone, and my customer really appreciates that. And, you know, quality, they will buy because it does last.

Elisabeth Braddock, PITTCH Socks
I think that's very interesting what Elisabeth says about the supermarkets and the difference between buying a product from a small business right now, rather from the big companies.
There is a service that small businesses can offer that far outweighs the price for many customers. And my hope is that for many people when they feel the pinch in their pockets from the rising costs of living, they will switch to buying less and making more careful purchasing decisions, which will play into the hands of small businesses.
As Oliver from Prinfab says here, if the current demand he is seeing is anything to go by, brands that make in the UK are doing well at the moment…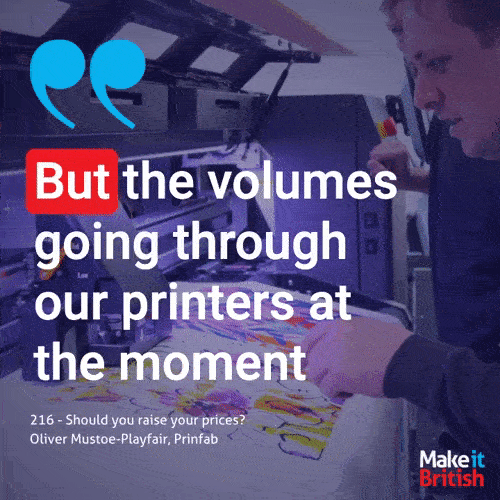 But the volumes going through our printers at the moment are anything to judge by, which are increasing week on week, more people are buying the products that our customers are making.

Which suggests that if anything, it seems to be getting at lot busier for UK manufacturers.

Oliver Mustoe-Playfair, Prinfab
British Brand Accelerator is an exclusive 6 month coaching programme for creative small business owners who want to develop and sell profitable UK-made products.
All
Interviews
Most Popular
Solo Episodes