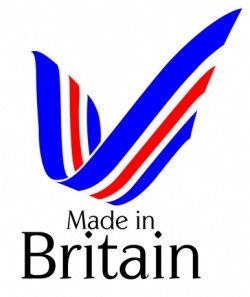 A few weeks ago I wrote about the campaign that cooker manufacturer Stoves had launched to find a standardised Made In Britain logo to be used on British-made products. A nationwide student design competition was run and the winner, chosen by a panel of industry experts in advertising, design and UK manufacturing, was announced this week as Cynthia Lee from Nottingham University.
The new logo features a swoosh of red, white and blue with the words Made in Britain below, giving the impression of an Olympic medal hanging on a striped ribbon (wonder where the inspiration for that came from?!).
Interestingly the font on the winning design has been changed since it was shortlisted , which is maybe why the typeface and the stripes are a little incongruous. And is it just me, or are the i's on the dots a little distracting?
I am really behind this campaign, anything that raises the profile of British made products is a winner for me, but I just can't help feeling a little disappointed by the final result. If the logo is really expected to be adopted nationwide across all manufacturing industries, including sectors as diverse as engineering and fashion, should it really have been run as a student competition? I'm not saying that we don't have some amazing design students in Britain, in fact design training in the UK is often considered to be the best in the world, but the slight cynic in me thinks that it may have been a cost saving that lead the competition down this route, rather than as a showcase for the talent eminating from our universities.
It will be interesting to see how widely adopted the Made in Britain logo becomes. Certainly the Twibbon that Stoves have made available has already begun being picked up on Twitter. Let's hope this is the start of a the UK finally recognising the importance of it's manufacturing industry and well done to Stoves for kick starting it!
Would you like to use the Made in Britain logo?
If you would like to use the Made in Britain logo on products that you manufacture in the UK then you can download the marque from the Stoves website here.
What do you think of the new Made in Britain logo? Please let us know in a comment below or send us a Tweet.
 Please sign up to the Make it British newsletter to receive our Made in Britain post in your inbox every week. You can subscribe easily by clicking here.