UK manufacturing in the news this week: A British watchmaking revival, an interview with Norton Motorcycles, light at the end of the tunnel for UK manufacturers and complaints about a Northampton boot named after historical protesters …
Spear's
Luxury British watchmaking is on the rise, and both Spear's and the New York Times had interviews with English watchmakers this week.
British watchmaking has slowed to a near standstill over the past century, but there are promising movements afoot…

Conversations with people in the watch industry — the Swiss watch industry, that is — very often consist of a French-accented mixture of grandiose platitudes, pretentious assertions about beauty, artistry and 'timeless élégance', and very little in the way of substance or fact. Such is the narcissistic passion of the luxury world. But it makes talking to Dave Brailsford, a 48-year-old entrepreneur, motormouth and wristwatch nut with a Derbyshire intonation as rich as a Bakewell tart, rather refreshing.
There was also a nice piece about English watch company Bremont in the New York Times which you can read here.
---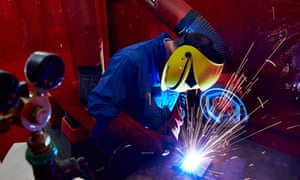 The Guardian
An opinion piece from The Guardian about market data that shows that UK manufacturing is on the increase.
For every glimpse of economic recovery, there are cautionary warnings. So how encouraged should businesses be by recent reports of a pick-up in UK manufacturing output despite the strength of the pound?

The latest Markit/CIPS Purchasing Managers' Index, an indicator of the economic health of the manufacturing sector, suggests that this grew faster in October than at any time in the past 16 months.

Other surveys reflect growing optimism, too. A new poll by business e-lender Everline and the Centre for Economics and Business Research, reveals that 26% of UK small- and medium-sized (SME) manufacturers have overseas expansion in their sights, versus 17% of British small businesses generally.
---
Director Magazine
From watches to motorbikes, as Director Magazine interviews the owner of Norton Motorcycles.
Legendary British motorcycle manufacturer Norton looked destined for the scrapheap until bike-loving entrepreneur Stuart Garner bought the business in 2008. Now, the marque's putting UK production back on the map – and on the big screen too.

Stuart Garner has a rock 'n' roll air about him. He wears leather biker jackets, jeans and scuffed boots which scream "I am not a 'suit'!" He looks, in fact, like a man to the motorcycle industry born.
---
Shields Gazette
This article caught our eye as a local historian has complained about a UK-made boot that has been named in honour of the Jarrow Marchers. The main issue that he seems to have with the footwear, made for Aero Leathers by a manufacturer in Northampton, is the £180 price tag.
Building British brands around historical figures is not unusual – see Private White V.C. and The Shackleton as examples – so this does appear to be a classic case of someone creating a story to get in the papers. We're sure that it will not have the detrimental effect on sales of the Aero Leathers boot that he also might have been after, probably quite the opposite.
A Scottish company has defended its decision to sell 'Jarrow Marcher' boots for a hefty £180 price tag.

Aero Leather Company, based in Galashiels, has come under fire from a Jarrow historian who says that the naming of the boots is "disgusting".
"While everyone knows Charlie Chaplin, the Jarrow Marchers might not be so well known outside the UK. In 1936, a group 200 men from Jarrow marched the 300 miles to London to present a petition to Parliament, asking the government for work, as the shipyard in Jarrow had closed down in the previous year leaving local unemployment at 70%.

Historian Paul Perry, who has written a number of books about Jarrow and the Crusade, said: "I think it's really disgusting and I think it's a sad society that we're living in if this is OK.
---
Want an update about UK manufacturing in your inbox every Monday? Just sign up here for notifications.