UK manufacturing in the news: Cotton spinning returns to Manchester, British-made menswear, robots will create UK manufacturing jobs and production of new car brand starts in Britain…

Fashion Beans
Featuring 3 British-made clothing brands – E.Tautz, Private White V.C. and Finisterre, this article from Fashion Beans looks at the rise of menswear made in the UK.
After several decades of outsourcing our clothes manufacturing, menswear's coming home. With luxury labels and cottage industry clothing brands alike looking to keep manufacturing on home soil, 'Made in Britain' is menswear's new major movement.
---
BBC News
Possibly the best news for UK textile manufacturing this year – as it is announced that cotton spinning will begin again in Manchester.
English Fine Cotton, which makes material for bullet proof vests at Tame Valley Mill, Dukinfield, is to produce luxury yarn at neighbouring Tower Mill.

The firm has collected spinning machines and looms from mills over the years to produce synthetic textiles at Tame Valley, but the new production will have the latest in loom technology.

Andy Ogden, general manager of English Fine Cotton's parent company, Culimeta-Saveguard Ltd, said: "We owe it to the cotton industry – which Manchester was synonymous with – to put it back onto the world stage.
---
London Evening Standard
A new report looking into automation in factories finds that it will help create jobs in UK manufacturing. The full report 'Future-proofing UK manufacturing' can be found here.
Robots will create UK manufacturing jobs, not reduce them, according to Barclays.

Its Future-proofing UK Manufacturing report says an extra £1.2 billion of investment in robots could boost the economy by as much as £60.5 billion over the next decade.

That would help the manufacturing sector to grow by £38 billion to £191 billion by 2025, and would safeguard more than 100,000 jobs, not just in manufacturing, Barclays argues.

There are concerns that increasing automation in factories will lead to more manual labour job cuts, but the report suggests it will have the opposite effect.
---
Autoevolution
The first new car brand to be manufactured in the UK has just gone into production.
Production of the first Infiniti models made in the UK has started, as the first Q30 premium hatchbacks rolled off the assembly line today. It happened at the Sunderland Plant, the same factory that makes the Juke and Qashqai…

The £250 million invested in a new paint job and assembly line extension in Sunderland reflect the importance of this car. This is the first time an Infiniti model has been manufactured anywhere in Europe and marks the first new car brand in 23 years to be manufactured in Britain on a large scale. It's supported by a £9.2m grant from the UK Government through the Regional Growth Fund.

The decision to build a compact luxury hatchback in Britain was made in 2012. However, the task to develop the car was given to the Germans, as part of a partnership between the Renault-Nissan alliance and Daimler.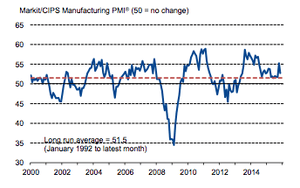 The Guardian
Growth in Britain's manufacturing sector has weakened and costs are falling sharply, suggesting inflationary pressure remains subdued, and Bank of England policymakers are unlikely to be in a rush to raise interest rates.

Analysts at data provider Markit, which carries out the survey, also pointed out that prices are falling at one of the fastest rates in the survey's 24-year history, as declining global commodity costs feed through the supply chain.
Want an update about UK manufacturing in your inbox every Monday? Just sign up here for notifications.