Kinky Knickers manufacturer Headen & Quarmby goes into administration
Set back for British manufacturing as one of the most high profile UK clothing factories calls in the administrators
UPDATE: On the 17th February 2014 it was announced that the factory had been saved by a management buyout deal and 12 of the original staff would be returning to work straight away, with more to follow shortly – Brilliant news!
Not long before Christmas I had a very positive conversation with David Moore, managing director of Middleton based clothing manufacturer Headen & Quarmby. "Business is great", he said, "we've got orders coming in from some well known brands and a couple of large High Street retailers. We're up to 33 staff in the UK now".  He also told me about exciting plans for a training academy for machinists, to be run in conjunction with Oldham College, and I was due to go to its launch in a couple of weeks time.
So I was absolutely shocked when I read today that Headen & Quarmby had gone into administration and that all of the staff had been laid off.
The business is probably best known by most as the factory that in 2012 featured on Mary's Bottom Line, the Channel 4 show in which Mary Portas re-opened a production line, filled it with apprentices and started making her lace Kinky Knickers.
Headen & Quarmby was first established in 1935 and once employed over 60 machinists, but when clothing production started going overseas a couple of decades ago, Headen & Quarmby had closed down its UK manufacturing operation and followed everyone else into offshore production. Its high profile revival on National TV had made many think about the viability of manufacturing textiles in the UK again, and had made Headen & Quarmby, along with the Kinky Knickers that it produced, a household name.
Since launching Kinky Knickers, Headen & Quarmby had picked up a lot of other orders to manufacture not just womens underwear but a whole variety of jersey based clothing including loungewear and nightwear. It was also producing underwear for Carol Smillie and Annabel Croft's Diary Doll brand, and I know from speaking to Carol last year that they were very pleased with the way things were working out with the Middleton factory, having previously made their production overseas.
Headen & Quarmby had also recently secured a six-figure sum from the Greater Manchester Investment Fund to invest in its factory and to launch the textile training academy which would train up 20 students in a newly established premises next door to the existing factory. The fate of the training academy is now also looking a little uncertain – a terrible shame when skills are needed in the industry so badly.
So how did it all go so wrong for Headen & Quarmby?
An announcement on Mary Portas' Facebook page when the news broke yesterday said
"the problems have been caused by cashflow shortfalls due to bad debts arising from some smaller retailers going bust over Christmas and a large retailer cancelling an order"
A large retailer cancelling an order is every suppliers worst nightmare, but sadly is one of the downsides of working with big High Street stores. Lengthy payment terms and tough price negotiation are some of the other issues that also come with selling to these types of shops. I know, I used to work as a buyer for some of them. It's the reason many UK manufacturers went under in the last twenty years, and also one of the reasons that I now do what I do, because I found it very unethical working like that.
Unfortunately, large retailers are where the majority of shoppers buy their clothes, and taking orders from this type of business is something that is necessary if British-made product is to reach the most people, and in turn help see a revival in mass manufacturing in the UK again.
I wonder whether the buyer at the retailer that cancelled that order with Headen & Quarmby stopped to think about the likely impact on a small manufacturer of such an action? And more importantly the 33 workers at the Middleton factory?
Cancelling an order on a small factory in England making just 20,000 is very different to cancelling one on an overseas supplier making half a million garments month. There will need to be a big change in mindset amongst the buyers at these type of stores, many of which are too young to have worked with UK manufacturers before, for something like this not to happen again. It is one of the main reasons that I am holding my event for UK buyers & manufacturers to get together this Summer.
At this stage we don't know what will happen to the staff, or the machinery at the Headen & Quarmby factory, or whether the Kinky Knickers brand will survive. Hopefully a buyer will be found for the whole concern, although if it is anything like when the Aquascutum factory went into administration a couple of years ago much of the machinery was snapped up by foreign buyers and taken overseas.
Let's hope that someone out there will rescue Headen & Quarmby and this will be a small blip in the return of clothing & textile manufacturing in the UK.
UPDATE: On the 17th February 2014 it was announced that the factory had been saved by a management buyout deal and 12 of the original staff would be returning to work straight away, with more to follow shortly – Brilliant news!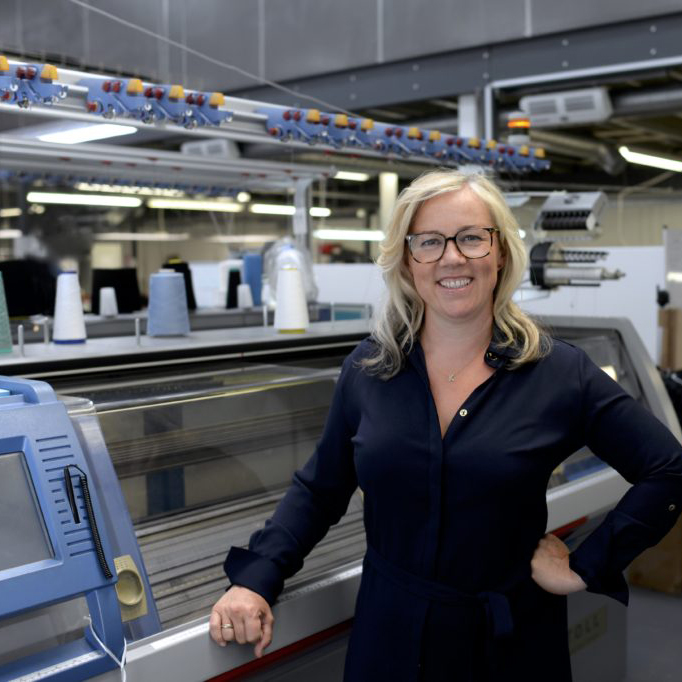 Hello, I'm Kate Hills
I've been passionate about UK manufacturing ever since I had my own recycled clothing company and micro-factory in the early '90s! After 20 years as a designer and buyer developing products all over the world, I launched Make it British to support creative small businesses that want to make sustainably and locally.
Over the last ten years, I've helped 1,000s of businesses to work with UK manufacturers. Now it's your turn!