Top 30 British-made Christmas Gifts under £20
The Ultimate List of Christmas Gifts made in Britain that are under £20!
Secret Santa, stocking fillers and presents for class teachers; sometimes you need a Christmas gift that is fabulous but won't blow your entire festive budget. We bring you our pick of British-made Christmas gifts that have plenty of wow factor, but are all £20 or under.
Handmade by a UK manufacturer established in 1964, these melamine coasters make the perfect gift for any midcentury modern fan.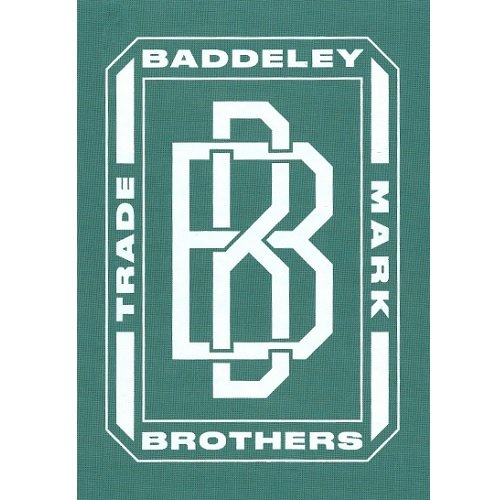 By The Gentle Author, with designs by David Pearson: For anyone with a serious interest in print, design and typography BADDELEY BROTHERS tells the dramatic story of the Baddeley family.
This stunning diamond dog tag makes the perfect Christmas gift for our loved companions! Inspired by Disney's Lady & The Tramp this tag comes in Silver or Gold and can be engraved in 4 different fonts as you please.
Devon Stripes socks are made from carefully selected mohair grown entirely at Corrymoor Farm. The mohair is combed and spun in Cornwall and  knitted in Leicestershire.
A unique personalised hexagon-shaped Christmas decoration, delicately cut with letters of your choice. Handmade in the UK.
If you're looking to make someone's Christmas extra special, shop Dom and geri's unique personalised wrapping paper! Upload a photo and text to customise the design using their easy to use online personalisation tool.
Just Dip, Drip, and Bubble! It's child's play! Award winning, environmentally lovely bubbles – which excel in quality and performance.
The Flower Tower™ is a free standing and wall mounted tower that provides an easy to grow, low-maintenance column of blooming colour that is the perfect gift for garden lovers who enjoy patio or balcony living.
Tiny Dancer! These super cute Limited Edition Pointe Shoe keyrings are the ideal stocking filler this Christmas. Made in the world-renowned Freed ballet shoe factory.
This beautiful British fragrance diffuser is made with high quality essential oils. Scented with sweet orange, spicy cinnamon and warming clove, this popular fragrance is perfect for the autumn and winter seasons.
Small batch artisan gin distilled in the Surrey Hills. With 20 intriguing botanicals to create a remarkably curious gin. The perfect stocking filler!
The T-Shirt is made from British Made fabric in Josery's Nottingham factory.  A great gift for any youngster who is into dinosaurs.
Made in small batches of 4-6 these candles are all handmade in the Lomas & Lomas Derbyshire studio. Made with natural soy wax, quality fragrance oils and cotton/linen wicks to ensure a clean burn and both hot and cold scent throw. Burn time of 40+ hours.
A beautiful personalised fairy swim bag for children with your child's name embroidered in thread. Handmade from premium cotton and waterproof lined. Available in other designs.
The perfect comedy secret Santa gift! Any photo put onto a beautifully soft suede feel cushion.
This perfectly personalised adventure comes with a personalised character (hair/skin colour) personal message (which you can create for the last page) and the child's name throughout. A beautiful, useful, educational gift!
Beautiful Giftbox of Shortbread delivered by hand by local bakers across the UK. Catering for all dietary requirements. This Shortbread gift box is available in Brighton. To see availability around UK go to www.mumsbakecakes.co.uk and input your postcode. No delivery Charges.
Wheat and lavender heat bag featuring a dusky rose leaf design and finished with velvet ribbon. A thoughtful gift handmade with UK grown organic wheat and delicately scented with dried organic lavender.
Round, heart or square shaped clock. With your favourite animal cut-outs at 12, 3, 6, 9 & the middle. Makes a unique gift for any pet lover. Can have a black or white face. 25cm diameter.
Hand-knitted, cosy hooded cardigans – the perfect, easy to wear extra layer all year round.
SEAMS Hand Cream was created for seamstresses to help Mend, Moisturise and Soothe their dry, pinpricked hardworking hands. Now the go-to hand cream for make-up artists SEAMS is a must for anyone who wants incredibly soft hands.
Stickibox Kits are activity packs that allow children to convert plain cardboard boxes into customised vehicles. The box, stickers and card cut outs are designed for children to colour in and decorate. Children can use their imaginations to turn their vehicles into whatever they dream of.
Stormchase wrist and hand warmers are very versatile for any one who wants extra warmth whilst outside pursuing their favourite outdoor activity. Thermal,water/wind resistant, breathable and so comfortable!
The award winning bath and shower treatment oil to calm the mind and relax the body. Leaves skin subtly scented and silky soft, made with 78% organic ingredients.
It's nearly time for the mischievous Elf on a shelf to make a return to many homes. Three Bears Yarn are offering a pattern and yarn pack at the fantastic price of £13.99! Each pack including a printed pattern and a ball of all six colours needed.
Great stocking filler for budding artists. This splatter print apron has pockets perfect for storing paintbrushes as a tool roll or keeping at the ready for important artwork projects.
Grey knitted beanie hat The 'best of the bunch'. Tramp Menswear's grey beanie is easy to wear and soft to touch. perfect for his Christmas stocking!
Complete your man cave with this great solid cast metal man cave sign! Made from Solid Cast Aluminium with a polished finish. Hand polished lettering and edging with a weatherproof coated finish if you wish to use it outdoors. Sold complete with fixing screws. Dimensions: 22cm x 2cm
Last few tickets remaining
This one day conference will provide you with the knowledge and expertise you need to successfully promote and sell a brand that is made in Britain.

Looking For A Manufacturer?
The Make it British UK Manufacturer & Supplier Guide contains the contact details of hundreds of hand-picked UK manufacturers and suppliers.
Looking For A Manufacturer?
The Make it British UK Manufacturer & Supplier Guide contains the contact details of hundreds of hand-picked UK manufacturers and suppliers.