How to Launch an Athleisure Brand Made in the UK
How to Launch an Athleisure Brand Made in the UK
Listen to this episode of the Make it British Podcast (26:02)
In this episode, I chat with Chris Kyriacou, founder of athleisure brand Soma Sportswear.
Chris contacted me in 2019, looking for help to find manufacturers to make his very unique athleisurewear.
In this episode, Chris talks through the process of going from idea to fully-fledged product and how we worked together to find the right factories.
Discover:
**Click the time stamp to jump directly to that point in the episode.
Top picks from the episode:
During the interview, Chris explains how much of a tough time he had to find UK manufacturers who could make the unique fabric he wanted for his athleisure garments. Just like many other brands, Chris found that trying to look for manufacturers proved impossible and when he eventually contacted them, he wouldn't receive a response:
"It was an absolute nightmare. Searching to find them through Google is nearly impossible.

A lot of these manufacturers have really, really traditional old websites with literally non-existent SEO presence. So, it was really, really challenging to sort of getting in contact with manufacturers. I had a few recommendations from friends who worked in the industry, but that was very limited."
Seeking help, Chris contacted me to assist in finding a UK textile manufacturer who had the experience to develop an all-new fabric suitable for his athleisure brand collection.
One of the things we always advise everyone to do is to make sure to visit your manufacturer face-to-face to make sure you're the right fit for each other. This is exactly what Chris was encouraged to do to make sure he could get an idea for himself of what goes into the textile manufacturing process.
"So I went all the way to Nottingham and Leicester and there was three or four in London, which was quite convenient. It was an amazing experience because obviously, I'm more traditionally from a marketing background, to see that sort of firsthand textiles process was just really sort of eye-opening and gave me a really great understanding firsthand of what and how I needed to do it."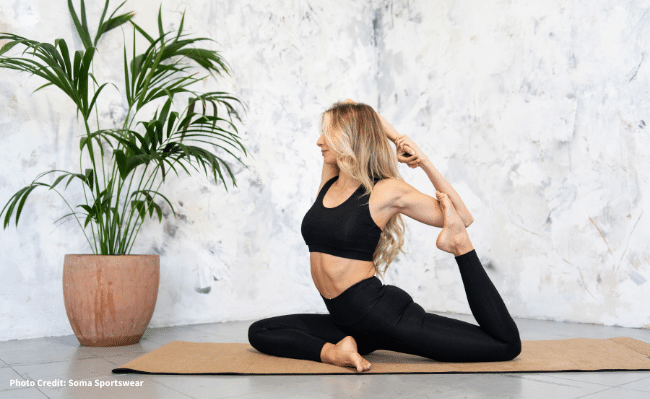 Taking almost 2 years to launch, whilst doing so through Brexit and the pandemic, Chris had his fair share of obstacles. Now he's out the other side and his activewear brand Soma Sportswear launched back in December 2021, he's shared the tips he would give to someone looking to start their own athleisure brand:
"My first recommendation would be to make sure you create something 100% bespoke. There's just so much competition out there. So come up with something innovative and unique to, to who you're trying to target and the type of brand you want to create.

Then once they've done that, it's important to then take into consideration how long it will take to make. And then, the pros and cons involved with the cost involved with that, the length of time for that. So I think there are just so many variables involved, every case would be very different.

If you do go and do it, it's very, very hard if you do it on your own. So I would recommend partnering with the right people, giving yourself a good foundation to start off before sort of really venturing into the unknown."
More Soma Sportswear

Soma Sportswear on Instagram
Soma Sportswear Website
We're currently taking applications for Manufacturing Made Easy, our coaching programme for businesses that make in the UK. Simply apply here – it takes less than 2 minutes!
British Brand Accelerator is an exclusive 6 month coaching programme for creative small business owners who want to develop and sell profitable UK-made products.
All
Interviews
Most Popular
Solo Episodes