Member News: Cartim Recyclables opens to make recyclable gowns from sugar cane waste
Somerset eco-firm Cartim Recyclables launches their business with an innovative product made from sugar cane waste, paving the way for carbon neutral production
Sustainable Somerset-based business Cartim Recyclables has opened this month (July 2021) providing the only 100% recyclable gowns made in the UK. These eco-friendly gowns are made from sugar cane waste for professionals in personal care industries, including hairdressers and barbers.
The company provides an alternative solution to single use plastics with its 100% recyclable Polyair™ gowns that are super hygienic and completely environmentally friendly.
Carole Champion, Director of CARTIM Recyclables, based at Somerton Business Park, says:
"Sustainability is at the heart of what we do. All of our gowns are plastic free, carbon neutral, produce zero waste and are free from any animal products."
Watch their introductory video here:
By encouraging others to make more educated and sustainable choices, the Cartim Recyclables team hopes to help reduce the amount of waste going to landfill and dramatically reduce carbon footprint.
Director, Tim Champion adds:
"We aim to offer an affordable solution to professionals and businesses looking to make a change to become greener.

There's been a real need for a product like this throughout the pandemic as hairdressers have had to go, understandably, over and above their hygiene levels to cover off Covid compliance in order to remain open.

Now these changes look likely to come to an end this month, customers and staff are still demanding the highest standards in hygiene for their own safety and to reduce the risk of further outbreaks, and the spread of other variants. The other big trend is sustainability. People want to use planet-positive products and our 100% recyclable gown made exclusively in the UK does exactly this."
CARTIM Recyclables' gowns are designed to protect a hairdresser or barber's client against hair, water and colour.
The innovative material they use to make the gowns is manufactured in Witney, Oxfordshire and extruded, cut and packed exclusively at the Cartim factory in Somerset, resulting in a 'Made In UK' product.

Carole continues:
This is truly the greenest material we know of and it will help hairdressers and barbers improve their green credentials and dramatically reduce their carbon footprints.

Polyair™ is a soft, clear material that provides a commercially viable alternative to standard polythene. It is bio-based and is made from sugar cane waste. It's the process of photosynthesis as the plant grows that makes this material carbon neutral and our product 100% recyclable.
The team at Cartim Recyclables is made up of husband and wife co-directors Tim and Carole, Abby who is their Administrator/Machine Operator and Marta their Sales Manager/Machine operator.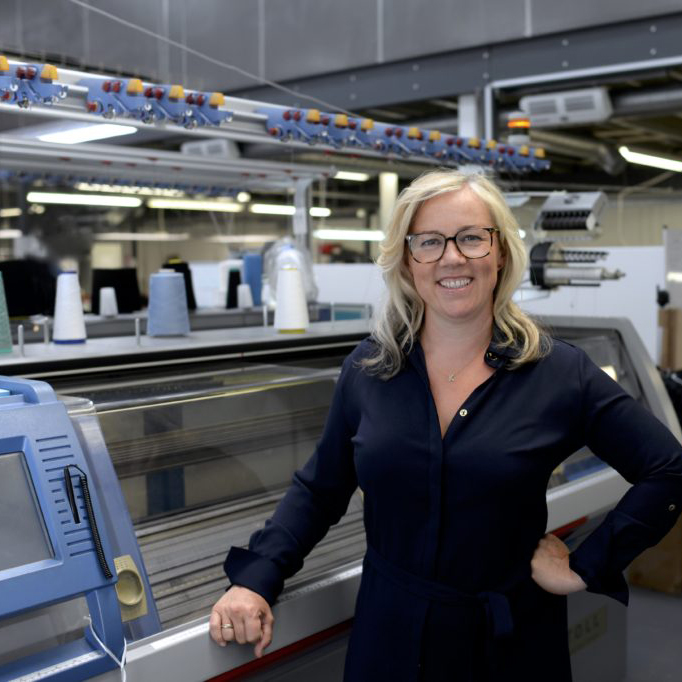 Hello, I'm Kate Hills
I've been passionate about UK manufacturing ever since I had my own recycled clothing company and micro-factory in the early '90s! After 20 years as a designer and buyer developing products all over the world, I launched Make it British to support creative small businesses that want to make sustainably and locally.
Over the last ten years, I've helped 1,000s of businesses to work with UK manufacturers. Now it's your turn!