How can you play your part in the future of UK manufacturing?
Delegates and speakers at the Make it British Forum defined a clear agenda for the future of UK manufacturing – and you can all play your part
In October 2016 we held our first Make it British Forum to address the growing demand for UK businesses to manufacture in this country. The event took place at De Montfort University in Leicester, which is the largest textile manufacturing region in the UK, producing up to 1 million garments a week.
The passion and desire to invest our energies into using the fantastic talents and resources that we have in the UK was in much evidence at the event.
Issues with the traceability of garment production in overseas factories is an ongoing concern.  News stories such as the recent Panorama programme about Syrian refugee children working in Turkish factories only serves to highlight the human outcry to re-address our values.
The Make it British Forum of 250 people, including fashion students, designers, business start-ups , experienced CEOs and factory owners, came together to work out how we can push this agenda forward. Now more than ever we need a post-Brexit plan to rediscover our heritage, re-open our factories and invest in the future of UK manufacturing. We need to make it British and make it Great again!
According to Adam Mansell, CEO of UKFT, which supported the conference, the UK fashion and textile industry currently generates £8.2 billion worth of export,  and £9 billion worth of textiles are currently made every year in the UK.  "UK manufacturing is enjoying a great renaissance, helped by the growth in the cost benefits of re-shoring, the sustainability agenda and the latest government statistics show that last year manufacturing employment in the UK rose for the first time in decades."
The forum highlighted the four P's that go into producing a great British brand – Passion, Partnerships, Practical skills and Provenance.
Passion for product, for keeping it British and for being committed to making it work.
Partnerships are the key to success when it comes to brands, buyers, factories, and universities working together.
Practical skills need to be high on the agenda when training young people coming into the fashion industry
Provenance is what sets a British-made brand apart from those making overseas – tell your story and great things will happen!
There are so many British businesses that are already doing the four P's amazingly well and we need to celebrate them.
We chose the speakers at the forum because they helped to demonstrate how essential the above 4 P's are to the future of UK textile manufacturing.
Justine Tabak, who recently left a corporate career as creative director of Boden, shared the emotional journey of starting up her own British-made womenswear brand. She said that 'your product needs to tell a story' and to think of creating a brand rather than a collection that changes seasonally, in order to ensure longevity. This rise in 'slow fashion' would help benefit UK manufacturers, she said.
Jess Mcguire-Dudley, marketing and design director at John Smedley spoke of how you 'don't have to produce the most outlandish product to succeed' and how passion and integrity were far more important at the centuries-old knitwear brand. She said that the 'test of good branding is making a complete stranger feel as passionate about your product as you do'.
It was Rachael Hobbs, from production consultancy Bridge & Stitch, that said that we 'need to change the perception that manufacturing isn't the sexy side of the industry', and Leicester fabric producer Simon Cook, of Discovery Knitting, called for a manufacturing co-operative, where businesses can work together.  Declaring that 'Manufacturing skills need to be taught by manufacturers', he said that he would gladly open his doors to students that want to learn about the manufacturing environment, and that other production units should do the same.
Ex-George at Asda director Fiona Lambert agreed, saying that the industry has a duty to encourage graduates to go into manufacturing, and that more UK factories should offer work experience. She also called on shoppers to buy more British product, saying that 'the customer holds the key to the future of U.K manufacturing' and bringing clothing production back home.
The audience was given some very practical advice on design and working with a UK factory by Karen Tickle, who not only owns her own childrenswear brand, Ticklish Kids, but works as an in-house designer for Leicestershire based knitwear manufacturer Skinwear. And Paul Alger from the UKFT talked about the importance of British brands being active online in order to reach out to overseas buyers and increase exports.
It was a very lively debate, and as well as the speakers above we also had Sue Tilley from the Leicestershire & Leicester Enterprise Partnership, Simon Double from Elite Labels, leathergoods expert Lorna Turner from Lorna Paramor and Stuart Cass, a production consultant who has worked with brands such as All Saints and Urban Outfitters.
What was very evident from the event was that fashion brands need to start thinking about longevity in their design and not just a quick seasonal fix. We may all want a high-end look on a budget, but we have to ask ourselves at what cost? If we are outraged by news items highlighting the horrific conditions in factories abroad then we need to look at ourselves, and our throw away culture, and address that.
What did we learn from the first Make it British Forum?
We need to train our young people in the art of manufacturing, and to encourage internship; for it not to be perceived as the 'unsexy' option within our fashion industry, but to be seen as the driving force in the machine that produces the amazing products we covet.
We need  our young people to learn how to sew and to understand fabric, cutting and creating. There are very few top jobs available to designers in the UK, but there could be 50,000 in manufacturing.
We need our factories to be proud, to sell themselves better, to be more easily found. The forum highlighted a requirement for greater accessibility, better networking, and a place where the industry can find each other more easily, making the UK supply chain a simpler process.
We celebrate our fantastic British dramas on the TV, we celebrate the creators not just the actors, we love our food and we readily celebrate our chefs! We need to adopt this attitude and apply it to the products that we buy, be it in clothing, craft or homewares.
One of the first issues that we need to address is how to make 'making' attractive to a younger generation. One of the manufacturers in the audience joked that he was the youngest expert in his field at 56, and that this is no joke! We mustn't let this expertise die out.
The forum also highlighted our love of story telling, seeing behind the scenes, knowing how and who made your clothes.
We have a great heritage in designing wonderfully original, quirky and unique items. How much better would we feel if we knew these things were not only designed in the UK but actually made here too?
What do you own that is made in Britain?
A straw poll was done at the forum to ask how many of the attendees were wearing something that was made in Britain. Only half the audience put their hands up – and yet this is at an event where people are aware and seeking change. Look around your house, look at your wardrobe and ask yourself the same question.
It's hard to accept the answer and we know why, its all about the money. Times are a-changing though. Asia and Europe can no longer be the default position on production, not only does it go against our humanitarian values but soon it won't be cost-effective to source from overseas. Surely its perfectly plausible we can once again regain our integrity and find cause to celebrate the name "Great Britain" with a proud "Made in Britain" label hanging in our products and lining the shelves of the stores we buy from?
The forum had an amazing energy and positivity about wanting to increase awareness and move forward with British production, but this can't be done without further willingness to be open and clarity in how we can make British manufacturing more accessible to start ups, more affordable and more flexible, and by fostering better partnerships.
We used to care and we used to be proud of what we made – just ask your grandparents! We have become complacent that we live in Great Britain, but we have forgotten a little about what made it great to start with…

Free resources to download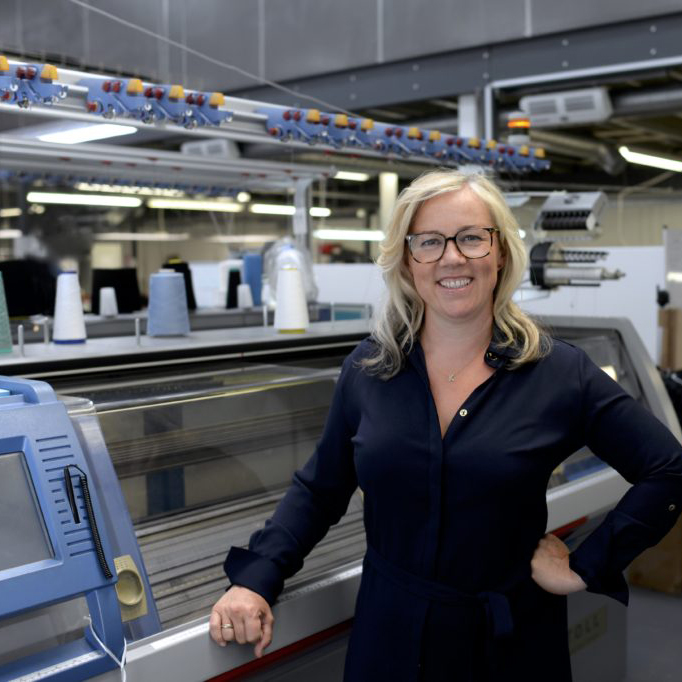 Hello, I'm Kate Hills
I've been passionate about UK manufacturing ever since I had my own recycled clothing company and micro-factory in the early '90s! After 20 years as a designer and buyer developing products all over the world, I launched Make it British to support creative small businesses that want to make sustainably and locally.
Over the last ten years, I've helped 1,000s of businesses to work with UK manufacturers. Now it's your turn!