Spotlight on…British Boxers
We interview Deborah Price, founder of male underwear brand British Boxers about her business and the fun she had on the photo shoot!
British Boxers produce traditional, British made boxer shorts presented in retro packaging. The brand's history originates in the story of Jem Mace, the First World Heavyweight Boxing Champion. We caught up with founder of the brand, Mace's great-great-great granddaughter Deborah Price to find out more about it.
Can you tell us a bit about your background?
Having studied for a degree in fashion and textiles, my first job was as a supplier of ladies separates. Specialising in the nightwear sector I worked with most high street stores, and later became Head of Buying for Bonsoir of London. I stayed with Bonsoir for 10 years and built up some fantastic relationships with factories, mills and buyers.
What inspired you to start your own business?
I had always wanted to run my own business but the birth of my daughter Martha and her subsequent diagnosis with a lifelong disability (Martha has Williams Syndrome) meant that to work as an employee became increasingly difficult. I realised I needed to have complete control of my own time in order to be able to drop everything and take her to medical appointments when she needed me to. I also feel driven to make her life better for her future, and hopefully for other children like her. Whether that's through influencing legislation, financial support or charity fundraising I don't know yet. All I know is that I couldn't sit still. I had an itch to change things for her, and for other children who will grow up needing help. I'd always fancied the idea of having my own business, but her diagnosis was the push I needed. To be honest, when you receive a 2nd class letter telling you that your child will need lifelong care, going for it with a business and working on a product you love is easy, even if it means giving up your regular income. You don't look back.
Can you give a brief description of the story behind the British Boxers brand?
My previous work meant that I knew a lot of factories, mills and department store buyers. I had a desire to make something British and I've always been interested in history. I thought about the stories my father told me when I was a child about a famous boxing ancestor called Jem Mace. I googled him one day and I was gobsmacked! Jem (my great-great-great grandfather) had some serious history and I felt that his story needed to be told. From this came the idea of British Boxers. As well as allowing me to create high quality boxer shorts made in Britain, the beautiful packaging also gave me the opportunity to tell his story. Jem Mace was the first World Heavy Weight boxing champion in 1870. He had an amazing rags-to-riches life with exploits in and out of the ring. He married 3 times, dated Hollywood actress Adah Isaacs Menken, and developed the Queensbury rules with the Marquis (albeit the Marquis got his name on those). There is even a statue of him in Louisiana.
What makes your pants better than the competition?
We use high quality shirting cotton and we don't scrimp on it at all. There is 3/4 of a metre of cloth in each pair. The litho-printed retro packaging tells Jem Mace's story on the outside and inside of the box. Each boxer short is wrapped around an inner card and there are a series of 4 to collect. The cards are reminiscent of Victorian cigarette cards, with each one telling a different part of Jem's story.
How much of your product do you make in the UK?
All of it except the fabric. We'd aspire to use a British fabric but at the moment it isn't commercially viable. I need to be able to retail this product at £22 to £24 in order to challenge the Calvin Klein jersey market and offer a woven product that's in the same price bracket. Yes, make in Britain, but it's vital to keep your eye on the viability of a product too.
Did you ever consider making the boxers overseas?
Bizarrely I've made thousands of boxer shorts overseas in the past and I know some great factories with low minimums, but these are British boxers, packaged in British boxes talking about a British boxer… We had no option really did we?
Do you think it matters to your customers that your products are made in Britain?
Yes I do. I think that people want to be part of something, they want to buy locally produced products and to help the countrywide push to recover our economy by growing the British manufacturing sector. My customers love this product, the story and the packaging. The play on words and the fact that it's made in Britain is vital to all of that.
And finally, do tell us about the photo shoot, it looks like it was fun!
We did the shoot at Meir Boxing Academy, near Stoke on Trent, a beautiful old converted church. The model was great – he let us cover him in sugar syrup like a Danish pastry to get the sweating boxer look, poor guy. I had to give him a top to go home in so he didn't ruin the art directors car!
British Boxers are available to buy from Deborah's website here.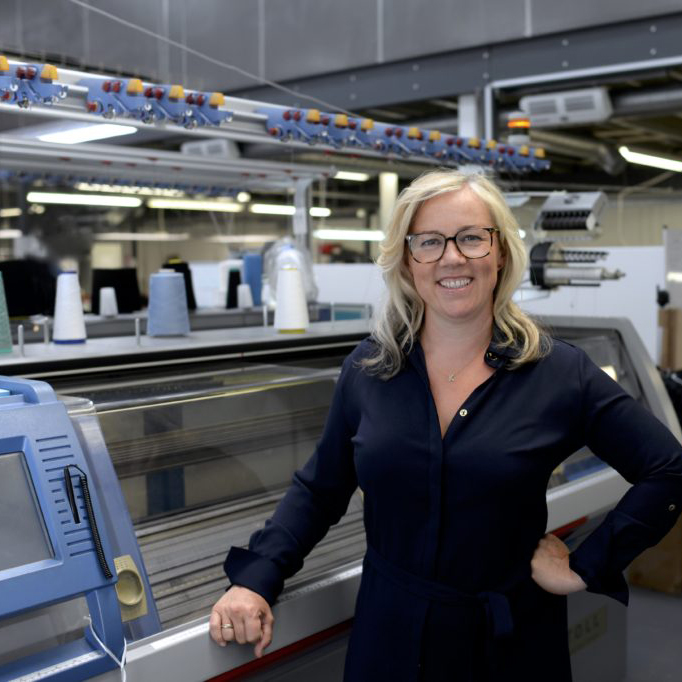 Hello, I'm Kate Hills
I've been passionate about UK manufacturing ever since I had my own recycled clothing company and micro-factory in the early '90s! After 20 years as a designer and buyer developing products all over the world, I launched Make it British to support creative small businesses that want to make sustainably and locally.
Over the last ten years, I've helped 1,000s of businesses to work with UK manufacturers. Now it's your turn!