Designer Interview: Aly Bond, maker of upcycled leather bags
We interview Aly Bond, designer and maker of handcrafted upclycled leather bags, about her unique business.
Aly Bond recycles and upcycles her customer's own vintage leather jackets and bags, lining them with a fabric sentimental to the client. She also sources leather coats and jackets from charity shops and Ebay, making all the bags herself. Intrigued, we had a chat to find out more about the brand.
Who is Aly Bond?
I was born in the sixties, raised in Kent and relocated with my parents to the Midlands in the seventies. I'm married with two beautiful children, Luke twelve and Elysia eight. I've always been creative and have made clothes for myself from my teens.
In which part of Britain are you based?
I am located in Staffordshire
I make all my bags myself and would never consider manufacturing them abroad.
What is the story behind the product?
When I was seventeen I stumbled upon a really cool vintage chocolate brown leather jacket in a local charity shop. I think it was probably a good twenty years old when it came into my hands, and it became my favourite jacket. I wore it all through my twenties and into my early thirties until I finally gave it up and stored it away in the loft – I couldn't bear to part with it. It resurfaced during our house move and I decided to make it into a bag after watching an online video on how to make with leather. It was hand stitched and not too neat, but I had many comments from friends about how cool it was. I suppose from that day I have been completely hooked on transforming leather coats into big usable bags. I started making them for a few friends, then for school playground mums, and word spread. People began bringing me their own coats and asking for a particular shape and size. I have since made all my own patterns and a range of samples for my clients to choose from.
I offer a personal service and love the interaction with each and every client I have. I feel humbled by their personal stories, and in their allowing me to make them their bag. I get excited at the finished result and in seeing my clients' reactions.
Where do you get your inspiration?
I take my inspiration from my clients' needs. They seem to know what they want from their coat and I consult with them on the individual spec for their lining, ipad pockets, phone pocket, zipper pockets etc.
Who is the typical Aly Bond customer?
Of late my typical customer seems to be someone just like I was all those years back, wanting to keep an old coat but repurposing it into something new. Mostly my clients bring me their choice of lining fabric too, in the shape of a husband's shirt, their childrens' old cute pyjamas, their late parent's item of clothing. I'm often creating a bag for them to cherish with a sentimental story within.
Before Christmas I did a pop up shop in Stafford for four days along with eleven other small businesses. I wasn't selling but simply showcasing my bags to sell the concept to people. I spent the four days completely overwhelmed with the response I had from people about my bags. I have taken some orders since and been approached by our local crematorium who would like to showcase them at the office along with two other city crematoriums, local funeral directors and bereavement councellers. This trend started last year when a customer who had recently lost her dad asked me if I could make her a bag lined with one of his shirts. I kept all the features of the shirt, keeping the breast pocket to pop her phone in. She loved it and wrote me a beautiful testimonial.
To find our more about Aly and her 'send me your coat' service visit www.alybond.co.uk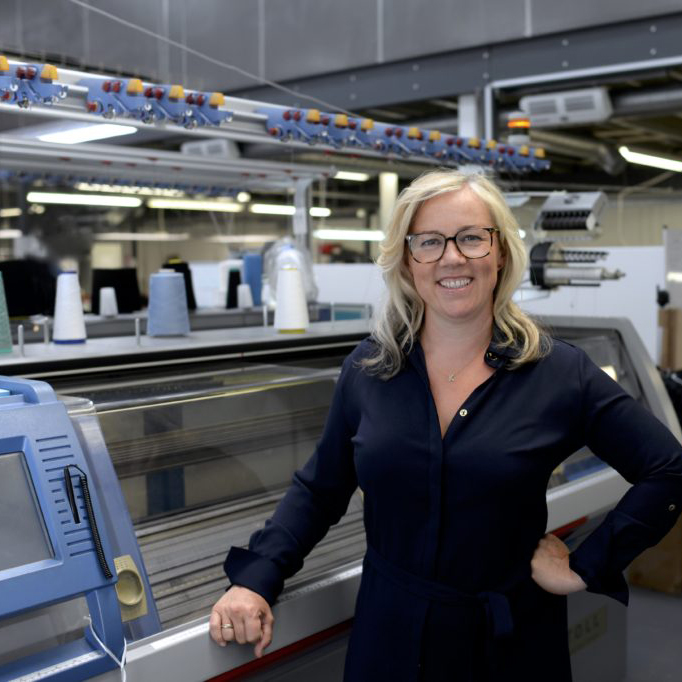 Hello, I'm Kate Hills
I've been passionate about UK manufacturing ever since I had my own recycled clothing company and micro-factory in the early '90s! After 20 years as a designer and buyer developing products all over the world, I launched Make it British to support creative small businesses that want to make sustainably and locally.
Over the last ten years, I've helped 1,000s of businesses to work with UK manufacturers. Now it's your turn!