British Bag Designer: Tamara Fogle

Tamara Fogle, the British bag designer, talks to Make it British about her eponymous bag line and her experience of  UK manufacturing
Can you tell me a bit more about yourself and why you set up your company?
I started work as an interior stylist for magazines; then sidestepped into the antiques trade; buying, selling and restoring antique furniture. Bags were a side-line.  I made them myself, and just for fun. Then, thanks to demand, the bag business became my focus, and now my job is a real reflection of me, and what I love. 
How would you describe the products that you make?
I make bags that never shout, but are always noticed. Stylish, understated, classic, functional styles. I do not re-invent with 'fashion' each season, but I will give a nod to it, with my use of colour.
I love to play with contrasts.  Bright leathers with earthy textiles.
In which part of Britain are you based?
I am based in West London, near Ladbroke Grove.  I'm a Londoner through and through.  Born and bred.
Where do you source your raw materials from?
Sourcing the materials is the most fun part!  I draw on my antiques trade background and am always scouring antiques fairs for interesting finds.  My latest range is made with 1940's tent bag canvas from a military academy in Prague.
Who makes your products?
A family run factory, established many decades ago in London, with skills that have been passed down the generations.  There is a great respect and pride for what they do; that generations before have built up the business, and its skill base. That respect and desire to do the very best job possible is invested into every bag we make.
By championing British production, I hope to evoke the heritage and quality that UK manufacturing has been re-known for.
Not only do we produce a smaller carbon footprint, but more importantly, I really do want to help maintain a diminishing industry that is so good at (and proud of) what it does.
What has been the best part about getting your bags made in Britain?
Being able to oversee production daily when necessary.
I am very 'hands on' with the production process. Using such rare and valuable textiles for some of my ranges means that I like to cut the front panels of the bags myself.  With the Antique German Flour Sack bags for example, choosing the fabric for the body panel is a major part of the design process.
And what has been the hardest part?
The only downside is that the cost of production in the UK is obviously going to be slightly higher than overseas but I truly believe that the quality, heritage and passion invested into every product to come out of our UK factories is more than worth the slightly higher price tag.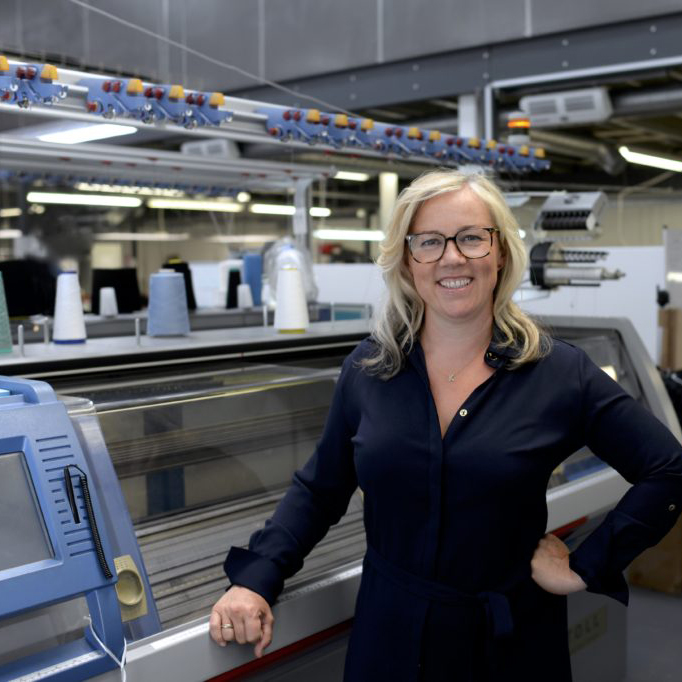 Hello, I'm Kate Hills
I've been passionate about UK manufacturing ever since I had my own recycled clothing company and micro-factory in the early '90s! After 20 years as a designer and buyer developing products all over the world, I launched Make it British to support creative small businesses that want to make sustainably and locally.
Over the last ten years, I've helped 1,000s of businesses to work with UK manufacturers. Now it's your turn!