How reshoring his footwear manufacturing to the UK was a success for designer Joseph Azagury
We took our Facebook Live to Wimbledon Village, to interview designer Joseph Azagury in his shop and to find out more about why he decided to reshore his footwear manufacturing
Joseph Azagury has been making designer women's shoes for over 25 years and has, in the last four years, taken the step of re-shoring his manufacturing to the UK.
We interviewed him live on Facebook and spoke to him about his decision to reshore his production and set up his own UK atelier. What did he see as the benefits of bringing his production back to Britain? And what were the challenges?
Read a transcription of the interview below.
[convertplayer id="nGhx7eyCA" width="700″ height="394″]
Joseph, would you mind giving anyone that isn't familiar with Joseph Azagury, a description of your business?
We design and manufacture ladies shoes, which we have been doing now for 25 years. The style and look of the shoes is modern classic footwear. We try and get to the top end of the market. It's aimed for a customer between 25 to 45 and upwards.
You created these lovely pink shoes specially for Wimbledon tennis fortnight, because obviously being in the village you're right in the heart of it aren't you?
Yes we started doing a special item for the Wimbledon tournament last year, and they proved to be really popular.
Last year we just produced one sample as a window display to be part of the whole atmosphere of Wimbledon, but they proved to be so popular that this year we decided to do a small limited production run of the shoes for Wimbledon, and again they proved very popular.
We have decided that every year from now on we're going to do a special item for the Wimbledon tournament.
A few years ago you reshored your footwear manufacturing back to the UK,  where were you making before that?
We were producing everything in Italy. It is supposed to be the capital of shoemaking and I suppose for the level of footwear that we were wanting to produce there was no other option at the time.
What was your motivation to bring the production back to the UK a few years ago?
It was something that I'd always wanted to do.  I'd studied at Cordwainers College, which is now part of the London College of Fashion. My whole education was here, so I'd always felt that I wanted to do something here.
About four years ago we noticed there was a distinct change in Italy. The product was becoming more expensive to produce; there were quite a few factories closing down around us; and I felt that put us in a pretty precarious position. We were subcontracted to other factories so our whole business was reliant on those factories. We didn't have total control.  So we decided that we would scale back a bit, and try and set up some UK manufacturing.
People said we were mad, but I felt it was something that was possible, and so we started in a slow way. We're slowly getting bigger and it's proving to be quite successful.
So you have your own premises where you make shoes yourself, and that's nearby to the shop isn't it?
That's right,  plus we also use a lot of outsourced workers, and so we're gradually building a team around us. Eventually we would like to have everything in-house, and produce everything in one spot.
So one of the motivations was to have total control over the business?
That's right, and it also gives us a lot of flexibility. For example, with somebody who's looking for a pair of shoes but they want it made up in a different colour, or with a slight alteration to the pattern, we can provide that kind of service.
People said you were mad when you decided to re-shore your manufacturing, what would you say has been the biggest challenge you faced in doing so?
The biggest challenge was actually finding people who could do the work, and we're still looking for people, so if anybody's out there and they're involved in the shoe business, contact us…
What would you say is the biggest benefit so far?
We get more control over the whole operation and our costs have dramatically reduced, which is surprising.  It's actually much more economical to do it this way, producing by hand in this country. We still import all the leathers and components and things from Italy, because those people aren't available in the UK anymore. Overall, the whole operation has worked really well.
What would you say to another brand that's currently making their items offshore,  if they're thinking about doing the same thing? 
Look into it, maybe it's not suited to every industry, but I don't see why it shouldn't be. Study it well, and if you feel it's possible then take the plunge.
I think a lot of the time people are scared to manufacture in the UK because people just don't do it anymore.
At the moment reshoring is quite topical as Clark's are opening a very large shoe factory in the UK. Do you think more shoe brands will follow suit and start manufacturing here?
Well I hope so because once the factories are in place you will start getting the people producing the components for the shoe industry in this country, and find the leather suppliers based in this country too. You'll have the whole offer. Everything could be 100% British made.
At the moment we have to get the leathers them from Italy, but if the suppliers were here we would use them.
Do you think that if we have more footwear manufacturing here then more young people will learn the crafts associated with making shoes?
Yes, but I think our whole industry is changing as well. We have to be realistic that technology is taking over. I think the traditional cobbler sitting over a stool, with nails in his teeth, will die out. That's the same with everything, you have to accept it.
For us there's a limit to the way we manufacture the shoes and the quantities that we can produce at the moment.
Slowly we will have to start introducing technology, so the people coming into the industry I suspect will be more technologists than shoemakers.
How many pairs of shoes would you say you're making here a month at the moment?
We produce approximately 50 pairs a week.
That seems quite a lot when you're doing it all yourself? 
Well the thing is, the way we've set it up is that it's a handmade operation, but with the mentality of a production line. We've combined the two, and that enables us to produce a lot more than a traditional handmade shoe.
Is there a particular style that you manufacturer here at the moment?
We produce everything from our strawberry kiss shoes to knee length boots to simple little kitten heel classics. We can produce anything that takes our fancy.
You've been in this industry for a very long time, with a shop in Knightsbridge before the shop in Wimbledon. Are you happy in Wimbledon?
Oh, extremely happy, it really is an ideal location for us.
Do you make any white label shoes for brands?
That's something that we don't do at the moment, but it's something that we would be happy to look at for the future, once we've got a larger production space.
Do you make any children's shoes?
No, it's something we've never done.
Would you go down that road or will you stick to what you do best?
I think at the moment we have to stick to what we do best. Trying to deviate at the moment would just take away our focus from what we're currently doing. Who knows, maybe in the future – anything's possible.
And for a business like Joseph Azagury it seems like anything could be possible!
To find out more about Joseph Azagury click here or visit him at www.josephazagury.co.uk
If you have a business that makes in the UK and would like to find out more about how you can become a member and feature on the site click here for more details about joining.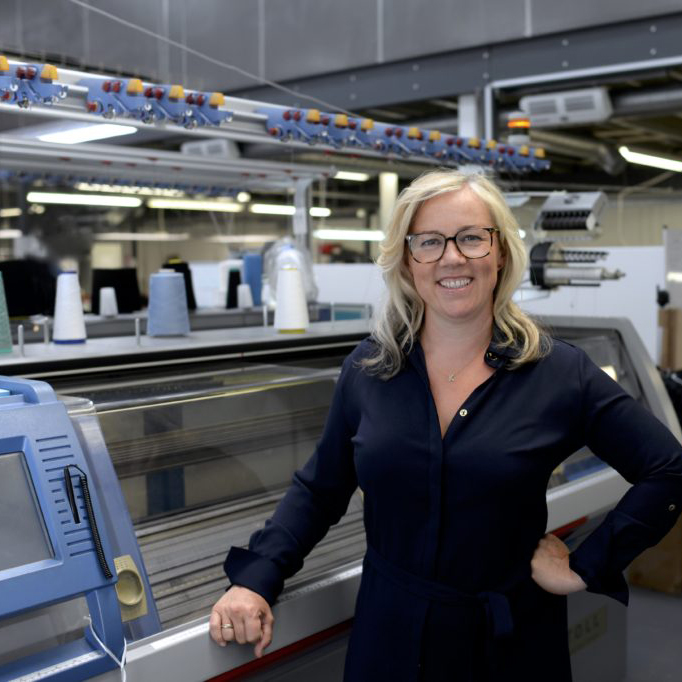 Hello, I'm Kate Hills
I've been passionate about UK manufacturing ever since I had my own recycled clothing company and micro-factory in the early '90s! After 20 years as a designer and buyer developing products all over the world, I launched Make it British to support creative small businesses that want to make sustainably and locally.
Over the last ten years, I've helped 1,000s of businesses to work with UK manufacturers. Now it's your turn!