Meet the Maker: Keith Hanshaw, The Leather Satchel Co.
We interview Keith Hanshaw, Managing Director and Master Craftsman at The Leather Satchel Co.
Hi Keith, can you introduce us to The Leather Satchel Company?
We are a UK maker of leather goods who specialise in heavy-hide raw-edge leatherwork, focusing on satchels, bags and other small leather goods.
Our family established the business in Liverpool in 1966 when there was a good market for satchels, during the 1990's we where the last remaining satchel maker in the UK.
Do you only make for your own brand or do you supply to other brands too?
We primarily make satchels and bags for ourselves, but we do also make for private labels. Most of our private label work is for products that aren't actually satchels and bags but use the same kind of leather-working skills, such as dog harnesses, collars, belts and various carry items.
You often use equestrian leather for your bags, why do you choose this particular type of leather and where is it sourced from?
In the past, when we generally used local tanneries, we always worked with natural leathers that we'd then dye and finish ourselves. This leather was thick and heavy and was used for saddles, belts and of course satchels amongst other things.
In the 60's and 70's every town had it's own leather workshop that worked with leathers produced in local tanneries from cow's reared on local farms or dairies. Those workshops have all but now disappeared, you can count them on your fingers. That localisation meant you had restricted access to different types of leather, so you worked with what you had available, and therefore your skills were developed and honed towards working the leathers available… today we still prefer to work with leathers that have that same heavy equestrian weight and feel.
The leather we use is a lot more durable than the thin fashion leathers you see most bags made from, so the items we make seem to last a lot longer. That's one of the reasons we offer a 5-year craftsmanship guarantee and lifetime repair policy on our own brand items.
There's little left of the UK's leather industry, so much so there's only two Bridal leather makers left in the UK, and the costs of those hides generally mean we only work with it upon request, for bespoke work, etc. The majority of our leather either comes from Holland, Germany or Northern Italy.
In 2008 you moved your workshop from Smithdown Road to Knowsley, what motivated the move?
The building in Smithdown was spread over 4 floors, so it wasn't really ideally suited to being a maker-space, but it kept us all fit. The local tannery at Garston had been demolished around a year earlier, so any hopes of that being brought back to life had vanished. Knowsley sits on the junction of the M62/M57, has Liverpool as a local port, two international airports with Liverpool John Lennon Airport and Manchester plus excellent high-speed rail links to London provided by Virgin Pendolino Trains.
We get such incredible support from the local business network, including the Chamber of Commerce and the Borough Council, that we're planning on staying here for the next 50 years!
We now feel the move to Knowsley (which we consider the gateway to the Northern Powerhouse) is one of the smartest moves we made, and that was all my cousin Chris's idea, he was the driving force behind the move.
Can you tell us a bit about the apprenticeship programme you now run?
There's no school or college in the UK that people can attend to learn the skills we use in our business.
If we need to expand our team, we can't simply advertise in the local paper for a saddle-stitcher or pattern cutter. The skills in our industry barely exist, and most of those people that still have them have retired or are very near retirement.
We have four master-craftsmen in our company, and I'm the youngest at 45.
We need to pass these skills on to people, to inspire people to take leatherwork as a career option. We'd love to be able to take on more apprentices but we're just not big enough to do that at this time.
Our long term dream would be to set up an academy teaching people the skills we have and to inspire a whole generation of new leatherworkers to master their craft and eventually start their own innovative and creative leather businesses.
What is the best thing about manufacturing in the UK?
The challenge.
It's really tough to be a UK manufacturer and brand, especially at the price point we occupy, because the there's no margin. The majority of consumers are only prepared to spend so much money, so you have to hone your craft and get very efficient at making your product.
You're always competing with brands that use UK branding, making themselves appear 'Made in Britain', but sometimes they only have a head office here and everything is overseas.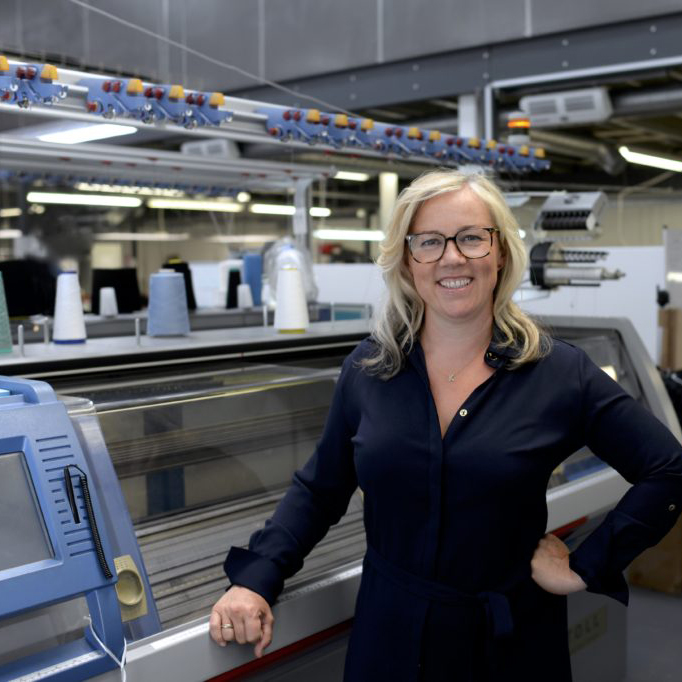 Hello, I'm Kate Hills
I've been passionate about UK manufacturing ever since I had my own recycled clothing company and micro-factory in the early '90s! After 20 years as a designer and buyer developing products all over the world, I launched Make it British to support creative small businesses that want to make sustainably and locally.
Over the last ten years, I've helped 1,000s of businesses to work with UK manufacturers. Now it's your turn!