Designer Interview: Sally and Lettie Pattinson from The Design Studio
We interview the Mother and Daughter duo behind the faux fur bomber jackets that are taking Instagram by storm
We met Sally and Lettie Pattinson earlier this month where they were speaking alongside our very own Kate Hills at the Clothes Show Live. The mother and daughter duo are behind the incredibly trendy brand TDS who, through Lettie's social media prowess, and her mum's sewing skills, have become famous for their handmade exclusive fake fur bomber jackets.
Here we chat to them about the power of Instagram, celebrity and working with your family.
Sally and Lettie, who came up with the idea to start your own brand and why faux fur bombers?
Sally: I have made clothing since a young age and also lectured in fashion and textiles for over 30 years. I had always made Lettie's clothing, and being surrounded by fashion design, textures and fabrics her whole life, Lettie took a strong interest in fashion design and style also.
Lettie: I always believed in my Mum. Her designs were amazing and I knew we could make something work if we took her designs to a bigger platform, that being, Instagram! During my time in Liverpool (at University), many individuals would comment on my clothing, especially a particular chunky-knit cardigan. Due to the interest this caused, we decided to make small collections of 12-15 which I then sold in University and on Instagram, which became very popular with new followers from around the world. Model Suki Waterhouse followed our Instagram page and I was able to message her. We had the opportunity to create her her very own garment so we had to make it special! We decided to transform the popular cardigan shape, which was what we were known for, into a Bomber Jacket. During fabric shopping, I noticed faux fur and said this was going to become extremely popular, so let's get a head start and make Suki's jacket using faux fur. Hers was the first ever one we made.
Lettie, your love of social media has built up your brand and attracted your customers, was this a skill you learnt on your degree?
To be honest, social media was a huge part of my life before University. I think that's down to today's society and the twenty first century being extremely dependent on instant information, the latest updates and keeping connected online in general. I have always loved taking photos and having a smart phone is great for that. What's also great about social media is the ability to 'share' your thoughts, pictures, opinions, etc. In terms of Instagram, this was the best form for us as I loved photography, styling and I knew the importance of visual impact. The better looking the photo, the more likes it receives. The success of our business is 100% down to Instagram and how our brand has been presented. I feel very strongly about social media and the new channels which are being created every day. As an avid user myself, it's very important to be in the know of what forms of social media to try out next. Studying media has certainly made me aware of other skills involved in the media world.
Sally, you have a wealth of experience in fashion and textiles as a lecturer, but how difficult was it to switch from teaching to manufacturing your own garments?
To be honest, it wasn't difficult at all, as I was in the industry before teaching and as an associate lecturer, I had two days a week to be a freelance designer. So, I was forever constructing garments and taking on private commissions.  My role as a lecturer was to teach production skills to my students as well as teaching them design interpretation so my whole working world revolved around the fashion industry. The only thing I miss is the interaction with the students and it was always rewarding to be in a creative environment with a mass of lively minds and watching young individuals grow into something very special.
You proudly manufacture everything in the UK. Have you faced any challenges in achieving this?
Sally: We can honestly say, that we couldn't believe our luck to have found a brilliant garment manufacturer on our door-step! I was always making each and every garment from my home studio until we hit 10,000 followers on Instagram. From this, it was obvious how big we were growing. It wasn't until one day I had a visit from my sewing machine engineer who could see how busy I was trying to keep up with the demand and he suggested I contact a small, local manufacturer. Bob employs three people and their main customers are British designers who need short runs of individual garments. Although he wasn't happy about faux fur being near his machines (it is such a messy fabric!) he agreed to line and finish the garments. This was ideal as I still wanted to design, cut and make the body of the jacket to keep to the handmade philosophy of our brand.
How significant is the role of the celebrity in promoting a fashion brand and have you had any big names help promote yours?
Lettie: Every big brand in some way has a large amount of success through the theory of 'celebrity endorsement'. We were so lucky that Suki Waterhouse allowed us to send her a garment and also lucky in that she then posted a picture to her Instagram which has over 800 thousand followers. I believe Suki was the perfect individual to promote our brand. She is an iconic British beauty, young, fun and influential. This was a very big break for us and really boosted our brand in followers and over-all interest. Suki Waterhouse was the first ever celebrity to have and own a TDS bomber jacket. Since then, we have seen celebrities such as Ellie Bamber and Isabella Peschardt wear our jackets and had famous followers such as Jourdan Dunn, Maddi Waterhouse, Thassia Naves, etc. In order to promote your business and gain a larger brand awareness, you have to give items away for free. For us, this was a very big decision as our garments are all handmade and individual designs. We don't have thousands of the same items to throw away to people so we really have to think about who we want to see wear our garments and design around them, in the hope that they actually wear the jacket and feature us.
What's next for TDS? Do you intend to stick to faux fur? 
Lettie: I think we will stick to the faux fur whilst it's still a hot trend. We are definitely famous for the bomber jackets. We have recently created the TDS coats which look amazing and have had a great response. We also create snoods and scarfs. Having a Mum as a fashion designer is great as she can turn her talents to any garment and make most things so she would really love to do something else and use other materials.
And finally, what's the secret to a successful business relationship when working with a loved one?
We have always had a strong relationship and been the best of friends. We have been of tremendous support to each other through both good and bad times. This strong foundation has been a firm platform from which to launch our business. It was the most natural progression for our joint love of fashion and promotion to grow our own business. We have such a strong belief in each other's abilities and opinions and have the sound knowledge that we are both committed to our brand.
For more information about TDS visit www.thedesignstudiohawarden.co.uk or visit their Instagram here.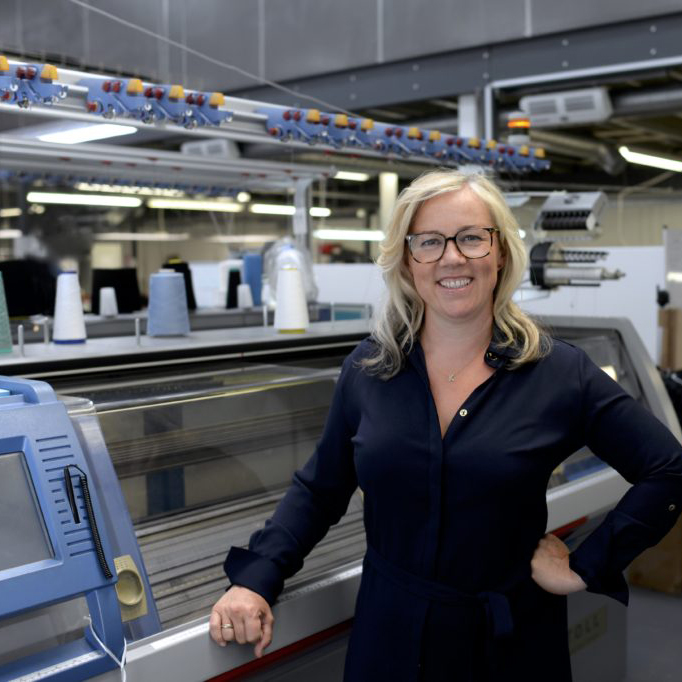 Hello, I'm Kate Hills
I've been passionate about UK manufacturing ever since I had my own recycled clothing company and micro-factory in the early '90s! After 20 years as a designer and buyer developing products all over the world, I launched Make it British to support creative small businesses that want to make sustainably and locally.
Over the last ten years, I've helped 1,000s of businesses to work with UK manufacturers. Now it's your turn!