Designer Interview: Claire Watt-Smith of BoBelle London
We catch up with the founder of luxury British handbag brand BoBelle London
Can you start by telling us a little about how the BoBelle brand began?
BoBelle London was founded three and a half years ago. I always wanted to set up my own business, and I have a love for fashion, especially accessories. I started off operating in the mid-market with a collection that was crafted in South Korea and was fortunate enough to win various awards, including Red magazine's Top 20 Under 30. I also designed a capsule collection for Marks and Spencer Autograph and after that I had a pop-up shop in central London. It was then I approached a key contact of mine for some advice going forward. I wanted to head into the luxury market and wanted to make in England, but needed some backing to do so. Fortunately this became a reality, and on November 30th 2012, the new BoBelle London was born, with all of our handbags hand made in England.

What makes a Bo Belle handbag different from other handbag brands?
Our message is quality; crisp, sharp structured designs that boast BoBelle's signature handle detail and practical inner compartments with impeccable attention to detail. We are also able to offer a premium service where the customer can have her bag tailor-made; not many handbag companies offer that.
Who buys your handbags?
Our customers range in age as there is no real 'sell-by date' on our styles; they are so clean and sharp they will never go out of fashion. As such, our customer wants longevity from her bags; she wants both practicality and luxury, which is exactly what BoBelle bridges.
Who makes your handbags, and is the entire range made in Britain?
All of our handbags are hand made here in Bath, England and I am incredibly proud of that.
Where do you source your raw materials and fittings from?
Our leather and hardware is Italian and we use the best Swiss zips that a lot of top designers use. We use agents here in the UK to ensure that we have a premium service and are also then working with small British companies.
What has been the hardest part about getting your bags made in Britain?
Although we managed to source what we feel to be the best factory in the UK to work with, it wasn't easy given the low number of factories now left. Organisation is key, but fortunately we have a strong team that works hard and so any problems are (hopefully!) easy to overcome.
And what has been your best experience of British manufacturing to date?
So many things! I love the fact I can telephone or pop and see the factory and not have to think of the time difference. I love the skills that the UK manufacturers have and the effort that they put into hand crafting a BoBelle London handbag. I feel incredibly proud knowing that I am supporting a factory here which employs over 30 skilled craftsmen and women.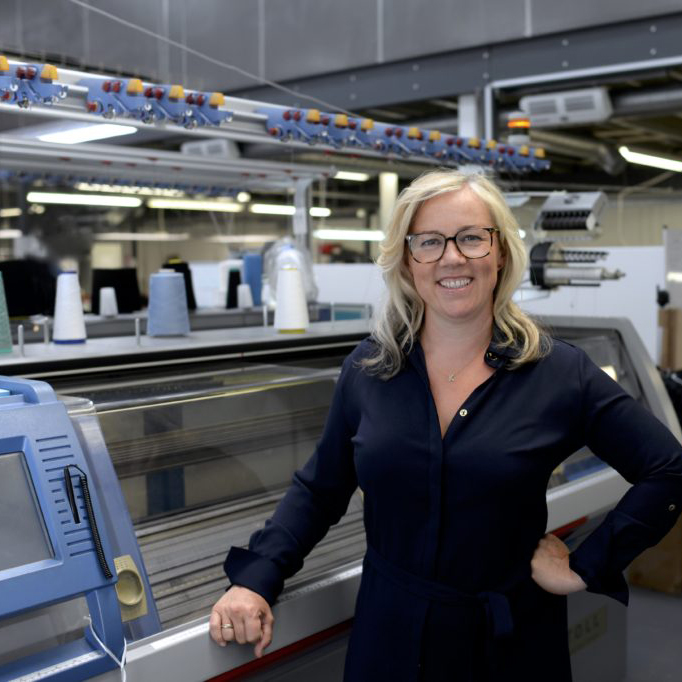 Hello, I'm Kate Hills
I've been passionate about UK manufacturing ever since I had my own recycled clothing company and micro-factory in the early '90s! After 20 years as a designer and buyer developing products all over the world, I launched Make it British to support creative small businesses that want to make sustainably and locally.
Over the last ten years, I've helped 1,000s of businesses to work with UK manufacturers. Now it's your turn!