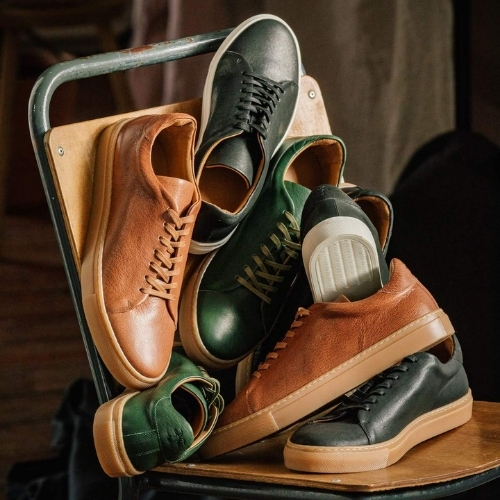 Pioneering UK leather company Billy Tannery launches a new unisex leather sneaker in partnership with British shoemakers Goral & Sons
Billy Tannery, the first leather brand of its kind in the UK to offer a fully transparent supply chain from hide to product, has unveiled their latest collaboration.
The Leather Sneaker is a unisex leather shoe tanned and made in Britain. The limited-time collaboration with shoemaker Goral & Sons is a new step in environmentally responsible footwear. Made from Billy Tannery's low impact vegetable-tanned leather produced just 50 miles from the shoe factory.
Goral & Sons is a family business with over 80 years of making quality footwear. From their Sheffield workshop, every pair of Goral shoes goes through as many as 200 steps so that high quality craftsmanship is guaranteed every time.
This unique sneaker collaboration combines Goral's craftsmanship with Billy Tannery's exceptional British goat leather.
How far have your shoes and the materials that make them travelled before they get to you?

This partnership with Goral, who's workshop is only 50 miles from our tannery, ensures that your sneakers will do most of their travelling on your feet.

Jack Millington, Founder of Billy Tannery
Billy Tannery began when founders Jack Millington and Rory Harker discovered that due to the decline in the UK leather industry and growing demand for goat meat and dairy in the UK, there were thousands of goatskins going to waste.
Now, having partnered with ethical goat meat supplier Cabrito, the company produces exceptional goat leather in its own small-batch tannery based on a farm in Leicestershire.
Using this small-batch, sustainably tanned leather, Billy Tannery has been able to create a premium shoe that is truly sustainable.
Made to order in Goral's family-run workshop in the heart of Sheffield, their innovative resoling service also ensures that these sneakers truly are made to last.
Billy Tannery The Leather Sneaker is available for pre-order now until Sunday 24th October. Order your pair from their website