How a lightbulb moment on a windy beach became a thriving business for The Beach Towel Clip inventor – Jonathan Meare.
Frustrated that his beach towel kept blowing away in the wind, former property professional Jonathan Meare came up with a solution – The Beach Towel Clip.
Now his invention is used all over the world, and every single Beach Towel Clip is manufactured in Britain.
Here he tells us his story…
Can you tell us a bit about yourself and why you started making The Beach Towel Clip? 
I took voluntary redundancy in 2008 and with time on my hands I ended up sat on Talamanca Beach in Ibiza. Frustrated by my towel blowing away or moving every time I went for a dip in the sea, I came up with an idea to hold it down. I put eyelets in the four corners of the towel and used metal tent pegs to hold it flat. This worked a treat until the pegs went rusty in the sand!
On a return visit to the same beach a couple mentioned they had seen my idea and copied it with their own beach towel.
Once I got back to the UK I registered the idea of a product designed to hold a beach towel down with the OHIM (Office for Harmonization in the Internal Market).  I then came up with ideas for a clip as it was easier than getting towel manufacturers to start putting holes in their towels!
What assistance did you have with launching the business?
I was assisted by a product development company in Manchester called Lucid. They told me something called Innovation Vouchers that I could apply for from the North West Development Agency. I used this funding to help pay for the R&D (research & development), prototyping and design work needed to develop the product.
Post launch I was also assisted by the Government's UKTI who helped me get the clips into retailers in over 30 countries worldwide.
How many versions of the design did you have to test before coming up with the final clip?
The first design was printed on a 3D printer. After a few tweaks it was reprinted and then it was perfect. We tested the first prototypes on a very soggy Porthmadog beach in North Wales.
Can you tell us a bit about how you found your UK manufacturer? And why you chose them to work with?
I went out to tender to companies around the world. Then narrowed it down to several UK companies. Following factory visits I chose FMT (Form Mould and Tooling) in Suffolk, who were both competitive and able to provide a good service.
They have been a great company to deal with and I would highly recommend them.
Why is it important for you to manufacture your clips in the UK?
Making in the UK gives me complete control of the manufacturing process. Plus I have great pride in the Made in Britain stamp on the clips.
'Making in the UK gives me complete control of the manufacturing process' @JDM_Designs
Click To Tweet
What have been some of your best moments since launching the product?
I've appeared on BBC Radio, represented the Federation of Small Businesses in Brussels, and been invited to Buckingham Palace and The Houses of Parliament.
It's also great to have people say that they've seen my product in shops in Brazil or Canada, or to walk past people using them on the beach.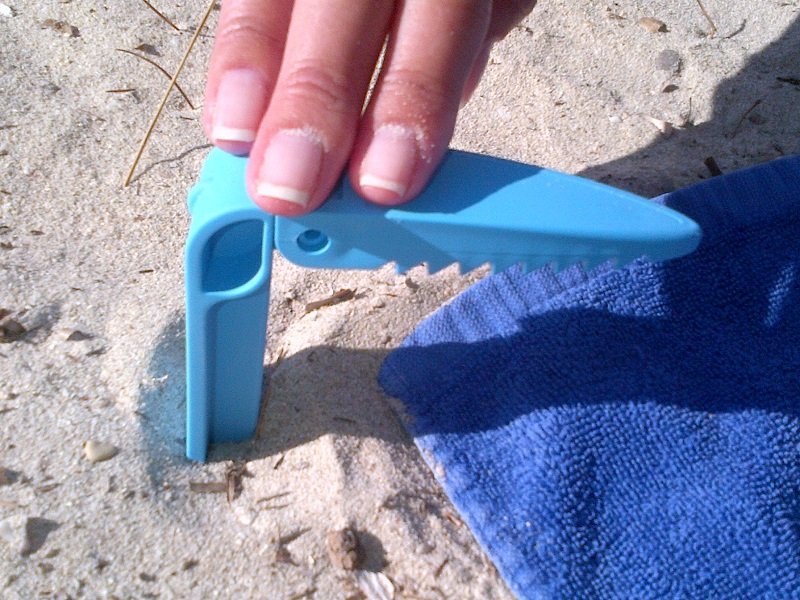 Do you have plans to expand the range into other holiday accessories, or even home accessories?
Not at the moment. For now we are working on developing new colours for the Beach Towel Clip and also branded versions that companies can use for promotional purposes.
Final fun fact, where is your holiday destination of choice?
Ibiza – back on Talamanca beach watching those without beach towel clips chase their towels down the beach!!
You can find out more about The Beach Towel Clip here or at thebeachtowelclip.com
Click here to find out more about becoming a Make it British Member.